Signs - Hire, Lease or Buy
We offer a wide range of products from our large message boards that deliver road safety messages quickly and efficiently to driver feedback signs that slow motorists down in safety zones.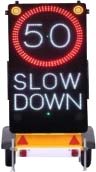 MB1 MB2 MB2 Colour MB4 Truck & Roof VAS Speed Trailer
Lift & Rotate Lift & Rotate Mounted

Click on each sign for full details
---

PRODUCT INFORMATION: VEHICLE ACTIVATED SIGN - (VAS)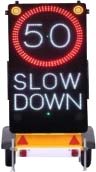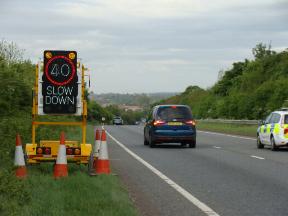 Click on right image to enlarge
or click here to see more Vehicle Activated Sign images in the Gallery

Features Include
Vehicle activated signs (VAS), are road side digital signs that display a message when they are approached by a driver exceeding the speed limit. As a speeding driver approaches the sign the built in radar registers their speed then flashes up the speed limit on the roundel with a message saying slow down. The speed roundel can be set at 20, 30, 40 or 50 miles per hour.
These signs only light up as a speeding vehicle approaches and so are more attention grabbing than more conventional signs. Vehicle activated signs that respond to or interact with drivers have been shown to reduce speeds significantly on hazardous sites and within speed limit areas.
At Solar Signs our VAS are trailer mounted enabling them to be moved to wherever necessary. They are small enough to be positioned almost anywhere yet the message panel is large and clear. They are a reliable versatile and flexible way of tackling speed problems.
All our VAS are solar powered and virtually maintenance free. There is no need to refuel them and very few parts to go wrong. Solar power is not only kind to our environment but provides 24 hour a day 7 day a week continuous operation for months at a time.
Anywhere speed reduction is required, from traffic management systems, to housing estates, outside schools or in industrial areas one of our VAS can help.

ISO 9001:2000 certified design and manufacturer
CE Certified
Fully Approved to Highways Agency specification TR2516B

Click Here to Download a PDF Version of Spec Sheet

Please contact us for further information or to arrange a free demonstration.