Traffic Management

Solar powered VMS are ideal for traffic management systems and roadworks. They provide maximum impact with minimum effort. They help to ensure the safety of both road users and workers. They can be used for all types of roadworks and traffic management systems whether lasting a few days, weeks or months, including: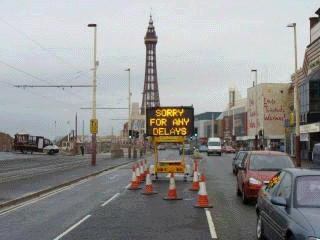 • Road closures
• Traffic diversions
• Bridges
• Advanced warning for roadworks
• Lane closures
• Contraflows
• Verge works and hedge cutting
• Road markings and road studs
• Resurfacing and surface dressing
• Warnings of an accident or unexpected road closure




Solar Signs UK Ltd aim to offer the best possible customer service and support. From your initial enquiry right through the process of hiring buying or leasing a sign our experienced and friendly staff offer advice and assistance to find the product most appropriate for your needs.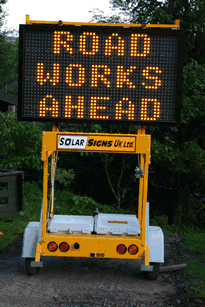 Benefits of using our solar powered VMS

• Excellent visibility in all conditions day and night due to patented LED technology
• 24 hour 7 day uninterrupted operation
• Each sign is solar powered but has battery back up. The batteries can last up to two years without needing to be recharged
• There is no generator to refuel, or machinery to maintain
• The signs are silent
• Once in position the sign needs no further attention
• Larger signs are big enough for motorway use
• Smaller signs can fit on narrow verges of single track roads
• They can withstand all weather conditions including winds up to 80 miles per hour
• Each sign can display up to 16 different messages.
• Signs can display different messages for different times of day, and different messages on
different days. All fully programmable in advance
• Displays can include changing flashing messages and sequential moving arrows
• Signs with speed radar option available
• Remote operation available allowing you to change the text from the comfort of your own office. Signs can be changed as the situation changes, no matter where you are
• Data collection equipment available



Please contact us for further information or to arrange a free demonstration.